May 15, 2009
By Moustapha Camara
I interview Craig Kaplowitz, Tim Tooney, and John Staniforth, of the Chicago based  t-shirt brand, Assault Shirts.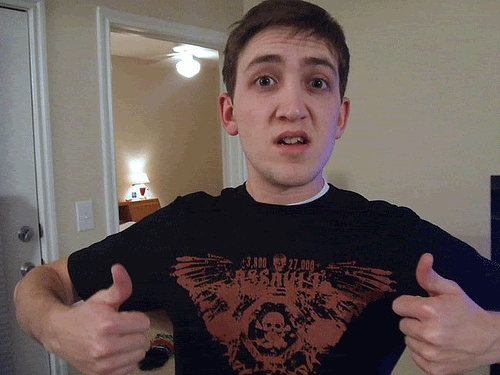 MC: Why did you name your brand, Assault Shirts? What's the theme behind your brand?
CK: We were looking for a name that was strong and aggressive. Obviously our designs aren't the typical "indie" style, nothing against that, but we wanted our name to reflect who we are and what we represent. I actually don't remember how we ended at Assault, but I can tell you it probably took us more time to decide on that, than it did for us to design our initial 12 shirts. Plus, the assaultshirts.com domain name being available helped a bit…. Our theme is centered on music and being yourself.
MC: What differentiates Assault Shirts from all of the other t-shirt brands in the "sub-niche"?
CK: Most of our designs have a specific story to tell, without blatantly shouting it. We take our own beliefs and ideas and let them inspire our clothing. While we obviously want people to like our stuff, we design because we love it and it's us. We refuse to design or print anything based on what we think the masses will like.
TT: The primary difference between us and the masses is that most of our designs aren't just pretty pictures–they're not children's book illustrations, they're not 1 line gimmicks, they're not about the most recent internet meme–for the most part all of our designs are in one way or another associated with political themes, social injustices, and hypocrisy that we see in the world on a regular basis. Sure we do have several shirts that are more humorous an fun than the others, but even those shirts aren't cheap one off gimmicks like you tend to find on the majority of indie t-shirt websites out there.
MC: I read the book, '1984′, by George Orwell, back in high school. Why did you decide to create a t-shirt based on the book? Tell me more about how you turned the Orwellian concept into a t-shirt design.
TT: The main reason I decided to do a theme based on 1984 was that I recently read it and it completely blew my mind that something written in a different time period (post world war 2) could be so relevant to what's going on today. I've always been a fan of the counter culture as you can probably figure out,, and 1984 really encompasses a lot of the oppressive themes that I try to subliminally put in all of my designs. I decided to collaborate on this design with Stani (John Staniforth) because he seems to share many of the same views as I do when it comes to the plebeians being ruled by the few who hold onto power by manipulation of the masses.
JS: When i was originally contacted by Tim and asked if I would like to tackle a design based on the theme of Orwell's novel, 1984, I began the process of design as I most often do, with research. Whether I the process of a design is sparked from a sudden, and often seemingly random, image appearing in my mind or if I am working from a theme or specific starting point, I always do a little bit of research in order to proceed with the next step, the gathering of resources. I'll research the subject, idea or theme until I feel I have a complete idea of what I want to produce. Once I have an understanding, a clear vision in my mind, of what it is I want to produce, I then begin to search for anything and everything that might be useful in building an image with the ultimate goal of my vision in mind.
For this particular design I was already familiar with the subject matter so minimal research was necessary. I tried to think of key words, feelings, and images that were either directly available to work towards the theme or that linked to subjects indirectly corresponding with the theme. So, for this design I focused on this idea of "Big Brother", of being watched, controlled, enforced, manipulated, oppressed, etc…I thought of the current state of surveillance we have both (I've got dual nationality, born in the States, my Dad and family from Manchester) in the US as well as
particularly in England in the form of CCTV cameras. I thought of the prison camps of WW2 (both abroad in countries such as Germany, but as well in the United States in the form of the "internment camps" we forced Japanese American citizens to inhabit). I thought of tools of oppression and fear propagation; televisions, loud speakers, weapons, etc…
After searching for any images that might be useful I began to bring all of the individual images into Photoshop in separate layers. I always focus on working from general to specific, working the larger design and composition problems out first before moving onto the more specific problems that will occur.
I knew, from the vision I had in mind, that i wanted a nearly symmetrical design radiating from a central focus. In this case I found an image of the face of "Big Brother" from the movie 1984 to be the focus. Feeling that this imposing figure had all control over the populous (and viewer) through methods of fear propagation and surveillance I knew i wanted everything to stem from his mind and to point, visually, to his face as the central focal point. I have an an atomic bomb's mushroom cloud rising from his destructive mind, guns like crossbones on a pirate's flag flanking his left and right, and an endless barrage of surveillance equipment erupting from behind his face. He has cameras, he has eyes in televisions, he has loudspeakers, he has weapons, he has oppressive control.
At  first the design was quite symmetrical as I was duplicating one side, flipping it horizontally and placing it on the other side. However, with exact symmetry comes visual boredom. So, in order to break this up I brought in elements on either side to break up this symmetry and provide a balanced asymmetry to the piece. I feel the end product was very close to the image I originally had in my mind and I can only hope that it is visually appealing enough for viewers to enjoy!
MC: I follow the Assault blog from time to time and there's some great information on there. Did you create the blog first and then the brand, or the other way around? What made you decide to create the blog?
CK: Thanks! The brand first, then the blog. We started with the business side of things and built upon that. As we got more and more into the blog and into the t-shirt culture, we thought it'd be cool to try and use our blog to help others, whether that be designers or other companies.
TT: Initially the blog was setup as a humorous day by day journal of the struggles we encountered when trying to start up an apparel company. After several comment posts, I decided it was time to make the blog into something a bit more useful that not only would people come to read to get to learn more about us as a brand, but also as a resource for all the other small apparel companies just getting started. It also gives us a great outlet to promote the bands that we sponsor, as well as to network in the industry, which will hopefully some day turn into some sort of printing and designing empire!
MC: You seem to have an entire crew behind Assault Shirts. How did you assemble the team for your company? What were the challenges when creating a team and how did you overcome them?
CK: To assemble the Assault crew, we did what any emerging entrepreneurs would do: hit up our friends! We are sooo lucky to have not only a great group of friends, but they are all so talented. Our great friend Chris has been a huge help to us on advice on the business side of Assault (he's also our tax guy, Mr. CPA). We have Ron Guerin from the NYLUG who hosts our site, and provides daily advice to us not only on business, but on life in general. Candice Ciesla, John Staniforth, and Fernando Rodriguez have all helped with designs. For photography, Dennis Burnett and Dane Sponberg have done our entire catalog of product photography. It's been great working so closely with such good, talented friends. The biggest challenge (aside from telling our friends they weren't getting paid!!!) was that Tim and I wanted to ensure that we maintained creative control. When dealing with something as personal as art is, no matter what the form, it's hard to find someone that is flexible with it and will let you mold it. Everyone on our team not only understands our standpoint, but they welcome our changes. When we first talked about bringing on others, we really struggled with the idea of losing some creative control. Lucky for us, we were able to build a crew of some of the most talented people ever while still maintaining that control.
MC: What are your plans for the future? Where do you see Assault in the next 3 years?
TT: Don't believe the BS you hear on corporate owned network news when it comes to the economy, and things like swine flu. While things may be bad, that doesn't mean it's as bad as the hysterical news networks make it out to be. Remember, they're there to make money getting us into our tin foil hats–but we do have plans to start offering different types of apparel in the future, as well as to get some of our apparel in small sized boutiques in Chicago, NYC, and LA once we find the right stores.
After we've built up a bit more capital we'd like to move into the printing business for ourselves so we can come out with more styles of apparel every month. In 3 years, we'd hope to have a small operation where we can pay our designers what they deserve, while still turning a hefty profit with our own brand. Ultimately, we'd like to be doing design and marketing work for our favorite bands like Rise Against, Alkaline Trio, Avenged Sevenfold, Thrice, and Brand New and getting them to wear our line of clothing like Michael Jordan wears his Nike's.
MC: What tips can you give to people about running their t-shirt business?
CK: Gosh, I could go on forever…. First and foremost would be to stick it out; the amount of time we spend in front of a computer on a daily basis is staggering. Respect the other people in this business and what they do. I have yet to meet anyone in the industry that has not helped me to personally grow or evolve. There are so many other companies that aren't our style, but that's what makes it so great. No one in this industry is doing it wrong. To those who are in it, it's because we love it. It's a form of art. It may not appeal to everyone, but it's all beautiful.
TT: "Start small, keep on hustlin'." Don't print your own shirts, find a professional to do it for you, get more styles, less quantity of each shirt, buy american! Network, network, network. Don't spam everyone, be personal, and courteous. You'd be surprised at how far you can go by just emailing someone, or even twittering them. (You can find us on twitter @assault we answer and personally reply to every message we get)