June 20, 2009
By Kristine McGlinchey
As tiny tots little did we know toys such as the Glo Worm and Lite-Brite paved the way for a world of artistic expression. From lava lamps to fiber optics, light has infinite possibilities. The following artists have devoted their careers to using light forms as mediums. So what are you waiting for – grab some glow sticks and get your light art on!
Check out what comes to light…
Light Sculptures, 1980-1984
By: Eric Staller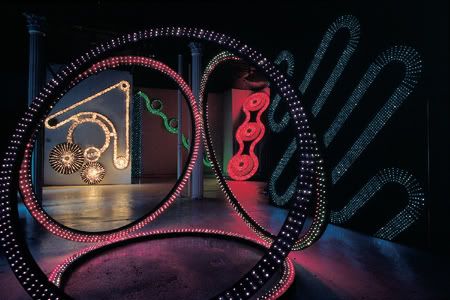 Eric Staller, the man who started the phenomenon that is Light Art has work that dates back to the 70's. Staller gave life to his masterpieces by using fiber board and thousands of computerized Christmas lights. "I was interested in transporting the viewer to a hypnotic, dreamlike place. Visitors to my shows remarked on the calming sensation of the colored fields of light. For 30 years I have been giving and getting joy with my art," said the dedicated artist who in his later years continues to showcase his work which has become permanent installations in Japan, The Netherlands, Amsterdam and Michigan.
We Come in Peace
By: Michael Bosanko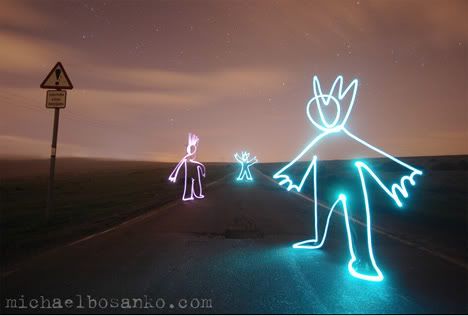 Photographer Michael Bosanko is renowned for capturing ghostly, alien light forms which interact with their backgrounds using light painting. This particular series (besides being eerie) is quite comical and fun. A few of the works stand out most like giant spiders crawling on the highway, alien hitchhikers and a skateboarder surrounded by rocks. If you're just as amazed as I am by how he does this, keep wondering – like a true artist Bosanko never reveals his secrets!
Light Modulators
By: WT Stinson
WT Stinson's works entitled Light Modulators has been evolving since 1980. His interests are in exploring color, its function and illusionary space. Exploring practical science with artistic expression he reduced his works into simple frames. Depending on what surface it is displayed on the artwork changes color, inspired by the colors found in sunsets and sunrises. Gothic stained glass windows and fluorescent lighting are the key ingredients in these confections.
Desk Lamp
By: Orest Tataryn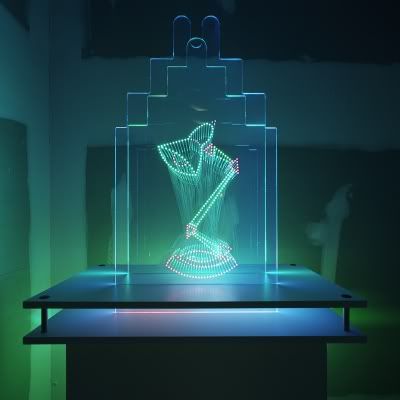 His career began in 1988 with a neon shop and goal to spread the awareness of neon light work in the art and design communities. Tataryn's work infuses neon lampworking with Venetian glass blowing. As noted about Tataryn, "he is interested in transformation – how light can transform space, create optical illusions, project afterimages, and alter perception." This particular piece is made with fiber optics, neon, plastic, wood and metal.
Light Brix
By Helen Evans and Heiko Hansen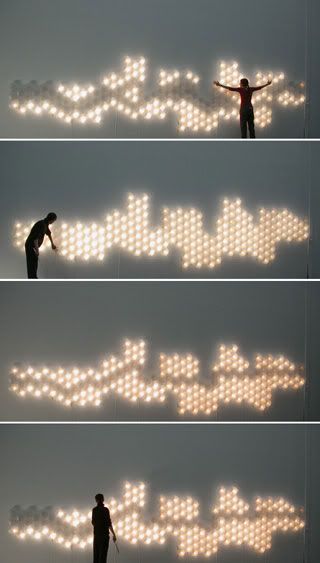 This oversized installation that bears much of a resemblance to my favorite childhood toy is far more advanced than something out of a Fischer-Price factory. Each light is touch-sensitive and reacts by either brightening or dimming. The work intends to connect human interaction with a network of electrical impulses, much too complicated for me to try to explain. The geniuses behind this light sensation are the design duo He He. See it for yourself in France!