June 5, 2009
By Kristine McGlinchey
Throw away the acrylic paint and paintbrush. Who needs them when the earth can be your canvas? These incredible formations are ours to behold forever and the brilliant artists behind these spectacles will keep generations to come gasping in wonderment.
Check out the endless possibilities the earth and our minds hold…
Spiral Jetty by Robert Smithson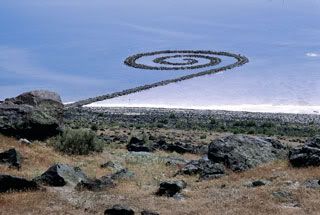 In 1970, using black basalt rocks, soil and water, Robert Smithson created a mind-boggling spiral, putting all other shapes to shame. At 1,500 feet long and 15 feet wide it stretches out counter-clockwise into the red translucent water of the Great Salt Lake in Utah. How did this happen you ask? At the time Smithson began, there was a severe drought in the lake causing a low water level. As the water level increased it became submerged and now it can only be seen at times of low water level again.

Effigy Tumuli by Michael Heizer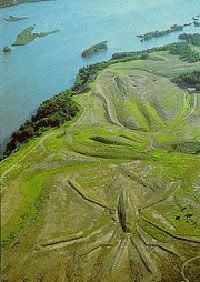 As one of the original pioneers of earth art, Michael Heizer used inspiration from Native American mound building to create his masterpiece, which only took a mere two years to complete. Each of the five mounds resembles an animal that can be found in the region – a catfish (770 feet long), an insect (685 feet long), a frog (340 feet long), a turtle (650 feet long) and a snake (2,070 feet long). See the massive earthwork with your own eyes it's located at the Buffalo Rock State Park in Illinois.
Stone Houses by Andy Goldsworthy
Often called "Mr. Natural", Goldsworthy is no stranger to publicity for his elaborate creations. In 2004 the Metropolitan Museum in New York City invited the British sculptor to create an installation on the museum's roof-top garden. Using imported stones from Scotland and wood from New England he constructed two domes, 18 feet in height and 24 feet in diameter. The Central Park inspired piece attracted media attention from Time Magazine, The New York Times and the Arts Journal.
Jim Denevan
Thought leaving your handprint or drawing hearts in the sand was impressive? Well then Jim Denevan has a thing or two to show you. At low tide using a single stick, which he finds upon arriving to the beach, Denevan etches freehand drawings into the sand. Depending where his mind takes him the drawings take up to seven hours to complete and stretch over 30 miles. By the time he gets to reflect on what a work of genius he's created the tide begins to flood the shore with water, leaving nothing. Talk about passion and commitment!
The Mud Man and Mud Maiden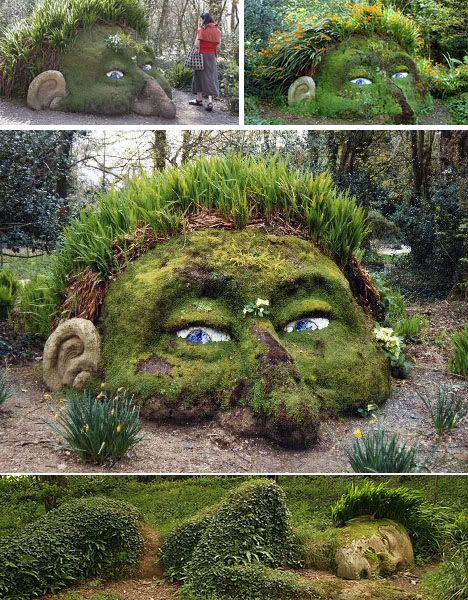 Much like a fairy tale, the story behind these strange creations is just as fantastical. The Lost Gardens of Heligan, located in the UK, is where these marvels lay. The garden is a popular destination for those interested in the wonderment of nature. The magical atmosphere of the land makes the movie Pan's Labyrinth look like it wasn't even trying!
Around the Corner by Patrick Dougherty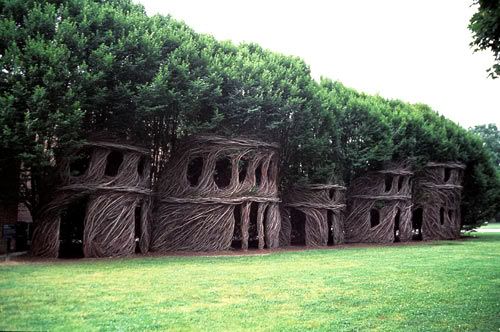 Using his master carpentry skills and fixation with nature, Patrick Dougherty turns ordinary twigs, branches and tree saplings into art projects cool enough to make you want to live in one. Dougherty maintains that his works are subtle and are meant to look as if they are just "found" rather than "made." He also takes into account the growth and unpredictability of the trees as they mature and shift. He has built over 150 works throughout the United States, Europe and Asia.