February 27, 2009
The Ex-Boyfriend Collection consists of custom made tees and accessories for Men and Women, including silk-screened tees, apparel for infants and even messenger bags. In this interview we chat with the creative mind behind Ex-Boyfriend about his brand.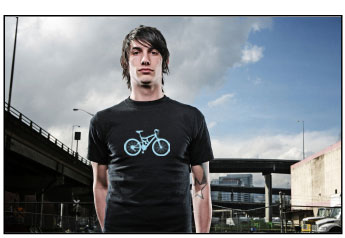 CG: What's the story behind the Ex-Boyfriend name? What inspired you to get started in the t-shirt business?
EB: When I first started designing tees, the idea was to create fun flirty t-shirts a person could wear to a bar if they wanted to meet someone. Pick-up line tees are a dime a dozen, but the overwhelming majority of them are really kind of crass and use what I refer to as "lowest-common-denominator" or "Family Guy" humor. Don't get me wrong, I can be as crass as the next guy; I just wanted a certain level of charm or cleverness to be my calling card as a designer. As for the name itself, Ex-Boyfriend struck me as fun and memorable and the tagline "add to your collection" can refer to both adding to your collection of exes or adding to your collection of t-shirts.
As for getting started, I've always liked drawing, and the t-shirt medium is a fun way to share what's essentially one's art collection with everyone you meet. Don't get me wrong, we have art hanging all over our walls at home, but it's still fun to wear a cool illustration out and about.
CG: Are Ex-Boyfriend tee designs outsourced or do you do all of the
design work?
EB: Right now I do all of the designs myself. I'm probably going to establish a guest artist series at some point in the future, but I have my hands kind of full right now and haven't had time to flesh that idea out yet.
CG: Unlike many tee shops, you're open to taking custom design requests. Is this a popular feature, do a lot of people take advantage of this? What have been some of the requests that you've received?
EB: I actually just started doing this a few days ago. When I'm not working on Ex-Boyfriend, I'm a freelance graphic designer, so offering custom illustrations for tees (or messenger bags) is not all that different from what I do "professionally". I thought it would be nice to make the option available. I know I've had times where I wanted something very specific on a wall decal or hoodie or what have you, and couldn't find exactly the right thing, so I wanted to let visitors to my site know that I'm open to their ideas. If it's something I can't or don't want to do, I can always say no.
Actually, I did do a slightly more steam-punk variation of this a couple years ago, right when I started Ex-Boyfriend: I got a hold of a bunch of inexpensive blank nylon messenger bags, and offered to do custom designs through both my website and my Etsy shop. These are a lot more labor intensive, because I was painting directly onto the bags with a camel brush and acrylic paint, and then coating the finished art with water-proof varnish. Some of the designs featured robots, while another featuring a Delorean was ordered for a fan of the Back to the Future films.
CG: 5% of the net profits at Ex-Boyfriend go directly to local animal charities. Are you a pet owner? What's you're all time favorite animal?
EB: Cats! We love all animals, but I've had cats my entire life. We only have one cat right now, my best bud Oliver. We lost our other cat, Sadie, to heart disease in December and haven't been ready to bring another critter home yet. I am sure we'll be adding a new quadruped to the family in the not-too-distant future, though. Sadie is the inspiration for our fund-raising, though. Our fund-raising logo is actually a drawing I did of her.
Cats probably are my favorite animals, but really I love all of them. They inspire a lot of my illustrations. My poor girlfriend cringes every time we go into a PetsMart, because she knows I'll want to take all of the rescued shelter kitties there home.
CG: How, if any, have social networking sites like Facebook, MySpace and Twitter helped Ex-Boyfriend? How else do you market Ex-Boyfriend?
They are a great way to stay in touch with fans. I send out an email newsletter monthly, but if I have news to share between newsletters, such as letting them know that new designs are up on the website, social networking sites are a great way to do it without cluttering friends' in-boxes.
Marketing is an ever-evolving thing around here, and I get a lot of help from my girl in that department. I think we rely on a lot of the basics like SEO and email marketing, like most clothing companies. Co-op advertising on sites like ishopindie.com has been really good for us, we are definitely looking into doing more of this type of advertising in the future. I think co-operative marketing efforts and cross-promotion efforts are a really good way to get your name out
there on a shoestring budget.
CG: Do you run Ex-Boyfriend full time, or is this a hobby/side business that complements a day job?
EB: I guess it complements my day job. I'm a graphic designer, although Ex-Boyfriend definitely occupies a good bit of my time each week.
CG: Other than Ex-Boyfriend, where else do you shop online for tees?
EB: I am a big comic book geek, so any place I can find Justice League tees is great! As for more esoteric designs, it's hard to say. I think a lot of designers would agree that there aren't any sites out there that are all killer, no filler. Usually I can find at least one design I like on any given site, though the most frustrating feeling in the world is seeing a great idea poorly executed. I come across at least one shirt a week that I think is soooo close to being awesome, but just barely misses the mark. It might be because of the illustration style, or something really basic like placement or type choice. But you know, it's art, and like all art, it's completely subjective, which is probably why I love it so much!
Check out the Ex-Boyfriend shop.