May 22, 2009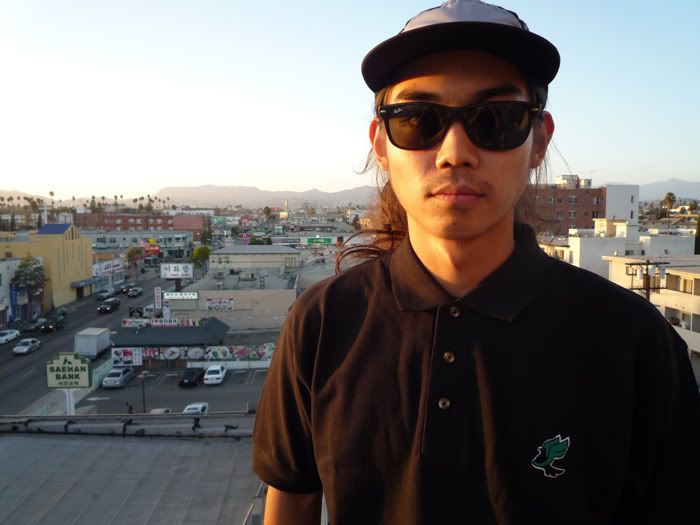 Foreign Family is a Los Angeles based brand that was founded in 2005 by two good friends. Since then, they have continued to build the reputation of their brand and have collaborated with some major players in the independent clothing scene. We had the chance to interview Chad Moon, co-founder of Foreign Family.
CG: Foreign Family was started about 4 years ago, tell us a little bit about how you  guys came up with Foreign Family.
CM: Haha, wait before we start, Mr44 and I would like to say thanks for thinking about FF for this interview, and sorry this interview took so long to get started, but now we're good.
We started Foreign Family cause that's who we are; really we are all "foreigners" in this foreign land. You can call yourself a native or local, but if you really think about it, our lifestyle is all influenced by so many beautiful outside cultures.
We also wanted to create a legitimate business so FF could eventually hire our friends and family. We all wanted to 'come up' together as one big FFamily. On the back end of actually starting the company, lets just say it took lots of sacrifice, dedication and risk, with the mindset of "lets get this money"!! ;) (winky, winky)
CG: How would you describe your brand to someone that has never heard of Foreign Family before?
CM: Foreign Family, is a t-shirt brand which focuses on hand drawn designs and original concepts. Each design has its own personal meaning that that can be interpreted by the individual who is reppin that shirt. Most of our design are very simple and basic and the placement of the designs are always on point. If you like design based shirts that don't have to many logos all up on it, Foreign Family has what you need J
CG: So who does most of the design work for Foreign Family? Do the founders do most of the designs, or does Foreign Family outsource other designers and artists?
CM: Foreign Family does everything in house. MR44, one of the partners in the company, is the creative director and main designer for our brand. We don't really outsource any work, unless we are doing a project with another brand. We will work very closely with the company we are collaborating with, to make sure everything is all good. Other than that, Mr44 just draws all day long all day strong, going through many pens and pages of paper. Truly a machine.
CG:  Foreign Family has been a part of some interesting collaborative projects in the past and have worked with some other great brands and artists, like The Hundreds. What has been your favorite collaboration to date and how did it come about?
CM: Well our favorite project we've done so far, was our 'Family Artist Series' that we did with Hannah StouFFer, Bobby Kim of The Hundreds, Shingo2 (producer/ rapper), and Javier Rodriguez of LTW Tattoo studios in Barcelona. This artist series really came out super sick. Everyone came through for the FFam. It's been our favorite collabo because we had the chance to ask our friends in different industries to design a special design done specifically for Foreign Family. Ill designs and creative juices were oozing out of this project! I love it!
CG: Cut and sew elements have slowly been creeping into the Foreign Family line, is this something that you will be focusing more on in the future?
CM: Yes, we will definitely be focusing more on cut n sew in the future, but we want to make sure every cut n sew piece that comes out from Foreign Family is on point. We are growing at a pace that we can handle. Cut and sew is cool but mainly we still love to focus our time on our main product: t-shirts designs.
CG: What has the demand been like for cut and sew garments?
CM: To be honest, we try not to pay attention to the demand. We do what we do and work at our own comfortable pace.
CG: As a brand, what do you think are some of your strengths? What are some things that you'd like to improve on?

CM: Our strength is our 'motivation' and 'passion' for what we do at FOREIGN FAMILY. We produce fresh, affordable, fashion to our fans. We keep our operation very tight but are open to criticism both positive and negative. We treat our customers with care and respect, just like family.
Oh, another strong point is our personalities, we like to connect and chill out with our customers and fans whenever we see them, especially at our events and sample sales. We would like to improve on everything, there is always room for improvement, no one is perfect.
CG: Foreign Family was founded in Los Angeles, so I need to ask this: Will the Lakers be winning the NBA Championship this year?
CM: Of Course, everyone in the world knows how we do, Lakers will take it all the way and there will be a happy celebration riot in downtown. Hahahaha. That's how LA peoples roll.
Just a quick lil shout out, we want to thank you for giving us this great opportunity to bring some more awareness to FOREIGN FAMILY and what we do. We would also like to say big ups to everyone that's down with FF and to our customers and fans for helping us get this far.