May 15, 2009
By Moustapha Camara
I interview t-shirt designer Glenn Jones, 21-time Threadless champion and owner of t-shirt brand, Glennz Tees.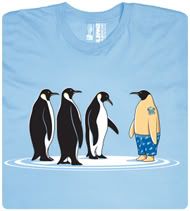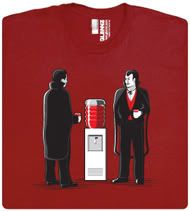 MC: You stated that you have 21 shirts for print on Threadless. That's awesome! How did you pull this off? Are you secretly an artistic alien from Mars with super powers or what?
GJ: Ha, Not sure how it happened – I guess I have the voters and Threadless staff to thank for that! – Not from Mars but New Zealand is still a long way away.
MC: On that note…how much money did you make all together from Threadless?
GJ: Not as much as people make these days! – a lot of my winning designs were back when you used to get about $150-$250, I think its pretty cool how Threadless has increased their prize as they've got bigger – They're going to make someone a t-shirt millionaire one day
MC: If I had an iPhone, I'd definitley use on of the wallpapers you created. Why did you decide to turn your artwork into wallpapers for iphones?
GJ: I have an iPhone so I thought, If I'm going to set up some files for me I might as well make them available for anyone to use.
MC: Your t-shirts bring back so many of my childhood memories–fooseball, Legos, Thomas the Choo-choo Train, The Flash. How do you come up with these twists on popular icons for your shirt designs?
GJ: Not sure, I just like to put my own twist on Pop culture, it's just something I find funny.
MC: The 'Go For Launch' shirt is a funny concept. Have you ever personally tried the Mentos in a Coke bottle experiment?
GJ: Yeah, and it amazes me!
MC: Most of your t-shirts seem to have a lot of color in the designs. How do you manage to print t-shirt designs with so many different colors while still making a good profit?
GJ: Just having the opportunity to have my own shirt range makes me happy, and a lot of that is thanks to my partners in Austin. Everyone wants their business to be successful but we like to invest in our product too, So getting that right, no matter how many colors we're using is most important us
MC: What tips can you give to other t-shirt designers out there trying to win design competitions and get clients?
GJ: I don't think there's any rights or wrongs, t-shirts are so subjective, but on a site like Threadless, I guess maybe look at the work of people that are doing well on there and try to understand why, then apply that to your own stuff – above all try to be original with what youre doing.