After many references to the brand, and the man behind the brand, on T-Shirt Magazine, I finally interview the 'Exuberant' Eric Terry, creator of Linty Fresh.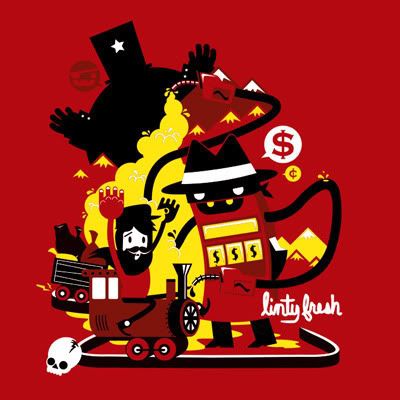 MC: It seems that Linty Fresh has come a long way since the past year. I'm surprised we didn't interview you back in 2008. What would you say were your biggest accomplishments with Linty Fresh in the past 12 months?
ET: Sticking with it. I have a habit of abandoning projects after losing interest, but with LF I've stuck it through for 3 years now, and it's still a fun thing for me, even though it's become my day job. I'm also happy to have been able to keep to my release schedule, putting out new tees and other goods on the first of each month. The pacing of this sort of schedule means I'm always working on new things, and I think that keeps it exciting as well. Self-motivation is so crucial in running your own business.
MC: Let's take it back to the beginning of Linty Fresh. How did you start your brand? What's your story?
ET: I'm a Threadless reject! I subbed a bunch of designs there when I was first getting into tee design. I never won the competition, and eventually decided to take the best designs I'd done and print them independently. The first few tees were spaced months apart, but eventually as things picked up and sales increased I was able to release more and more regularly. By 2008 I was releasing new tees every month and then expanded into hoodies, belts, and other goods. It was also at this point that I really narrowed the look and feel of the line and turned it into a brand. This really helped to shape the following releases. Rather than just being another clothing line with a handful of products, I try as much as possible to give each item its own individual value that makes it unique. That's why each tee has a story or poem behind it. A lot of myself goes into each and every Linty Fresh item released!
MC: Out of all of the Linty Fresh tees, which one is your favorite?
ET: I'm gonna go with "Mack Hated Mondays". For some reason I've always really liked Mack as a character, a guy who takes everything in stride even when it seems as if the universe has conspired against him. Plus it's got aliens and explosions.
MC: Which brands would you say have been the biggest influence to you?
ET: American Apparel. I was having a conversation with a friend about AA the other day and how incredible it is that a blank-apparel company can come along and revive an era of clothing and amass a huge cult following. It's pretty amazing when you think about it. And as a designer, I owe a lot to them because their color palettes have been the inspiration for a good number of my designs.
MC: I've been following your posts about your China adventures on your blog. How is it there? What are some of the great things you've seen, done and experienced in China?
ET: Coming here has been one of the greatest experiences of my life. There's a lot of amazing things I've done and seen in the 8 or so weeks that I've been here, but I think what impresses me most is the easy-going attitude of the people. In America I think people are raised with this mentality that they're entitled to everything. You see it on the road when people freak out if they get cut off, or at the grocery store when they lose their cool with a slow clerk. The real problem with this mindset is that it's always there looking for an excuse to feel offended, and I honestly think it's become the bane of our society. People (generally speaking, of course), have become impossibly selfish and self-centered. Here, it's very different. The other day on the bus I asked another passenger if he knew where the computer store was, and he literally went with me to the store to be sure I knew where it was, and even explained how to get back to my neighborhood and which bus to take. I think you'd be pretty hard-pressed to find someone back home (at least where I'm from) that'd go that far out of their way to help a stranger.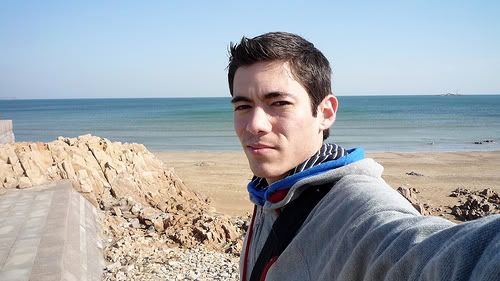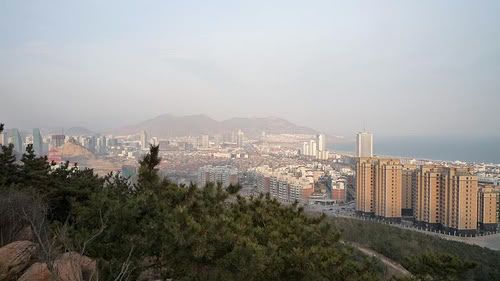 MC: I see you do Linty Fresh live chats now. Explain to me how the live chat works and the purpose of it.
ET: The primary purpose of the live chats is to answer a bunch of questions from a bunch of people in an efficient way. I get questions from visitors to my blog and store each day, and the bulk of those questions have been asked many times before. I don't mind answering them, but having a platform to address them all at once certainly cuts down on the redundancy. I broadcast audio and video and my viewers are able to submit comments and questions for me to respond to. The chats also serve to inform followers of the brand of the ins-and-outs of daily LF stuff: new releases, future plans, contests, and other news. They're actually a lot of fun to do, and it's been a great way to connect with fans.
MC: What are some tips you can give to other entrepreneurs out there who want to get their brand "up there"?
ET: No one follows followers, so be different. Save money, time, and stress by refining your ideas on paper. When you make a decision, be proud to stand behind it. Good branding and marketing is about creating a need and fulfilling it, so find your niche and stick to it. Listen to your customers. And remember, your company will inevitably take on your personality, so be nice.
MC: What are your future plans for Linty Fresh? Where do you see the brand in the next 3 years?
ET: Starting this year, all the shirts that come out are based on poems that come with the shirt on a collector's card. This has been a fun way to add a bit of extra value to the tees, and it's something that I want to continue doing and develop even further. I try to avoid thinking of my shirts as billboards advertising the brand, but rather as pieces that contribute to a larger whole. In other words, if a tee doesn't really advance the overall personality of the brand, I don't want to print it. As for my 3 year plan, I'd be happy to just continue doing what I'm doing now – owning a small brand for my living and having the freedom to travel!