May 22, 2009
By Moustapha Camara
I interview Emmanuel Pierson, creator of the French t-shirt brand, Monsieur Poulet.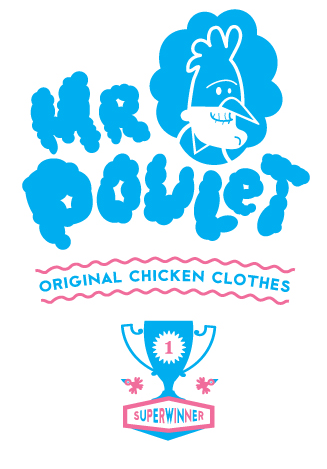 MC: Why did you decide to name your company 'Monsieur Poulet' (Mr. Chicken, in english)?
EP: Once upon a time, a funny designer (Rachid Baalla was his name) created a strange character, silly, old and funny : Mr Poulet. And when we started the brand, we found 3467 names, but we not found THE one…then, a white light appears, and we saw him, Mr Poulet was in a long white robe, naked and we follow him. It was the beginning of everything…
MC: What were you doing before starting Monsieur Poulet and what made you decide to start the site?
EP: We were both in advertising, Rachid was art director in a web agency, and I was executive manager in a promotion agency. I met him at the "Chicken and Sausage Paris Club", the atmosphere was nice and comfy…we knew we need to start a business together. Rachid was the first one to develop the idea of running a t-shirt business…then we decided together to launch an ethical and artistic brand, with fairtrade and organic cotton.
MC: What challenges did you face when starting Monsieur Poulet? How did you overcome them?
EP: I think the biggest challenge was to launch a fashion brand, with a supply chain…without having any idea about how works the textile industry. It has been very long to obtain the right sizes, the right colors, the right cut…but now it's over, we know how everything is working…fortunately !!!
MC: How does Monsieur Poulet differ from the other t-shirt design contest sites out there?
EP: Mr. Poulet produces himself all his products, thanks to that we can have the perfect cut for men and women. One of our point of differentiation is the quality of our range : our t-shirts are now fairtrade, organic, ekotex, and greenprint certified, we don't use any plastic through all the supply chain…and all the paper used is recycled. We try to have the best products in quality and ethic. About the graphism, we have a good network of talented artists since the beginning, and we try to have our own editorial guideline, and graphic choices.
MC: "As Monsieur Poulet added at the Cogip French Bowls Tournament final (1954): 'You must never claim victory before throwing all your bowls '." The description of the six steps in your "how does it work" section are hilarious. Explain what the Monsieur Poulet character is all about.
EP: As we say, we only are the guarantors of the Temple of Good Taste. Monsieur Poulet, this timeless, atypical, legendary character left us his love for beautiful things and we endeavor to pursue his quest for "good taste" …Monsieur Poulet loved The Nature, and The Nature loved him, he also loved to play with his forest friends, and liked to wash his feet before going to bed.
MC: Out of all of the t-shirt design submissions you've received, which one is your favorite? Why?
EP: We have unfortunately no favorite, we received lots of very good designs, and I'm sure we will have a lot more in the future…we are confident about the quality and the good taste of the artists who play to our contests. On the contrary with other T-shirts sites, Monsieur Poulet doesn't offer a enormous amount of money, we prefer to offer him a better notoriety through our shops (40 today), press and catwalks.
MC: What are your future plans for Monsieur Poulet?
EP: Rachid and me now want some babies, little chikens everywhere…that's why we will launch Monsieur Poulet Kids at the end of the year…but chhhh it's a surprise !