June 20, 2009
By Moustapha Camara
Rethink Clothing is a "fresh company with intentions of mixing up the clothing world". The art on the t-shirts are created by college designers across the nation. Some of the profits made from the company go to college artists who submit great designs that are used and sold by Rethink.  In this article, I interview Andy Meyer, founder of Rethink Clothing.
MC: How long have you been in the t-shirt biz? What have you learned so far?
AM: A bit over a year now. I learned a while back to always approach everything like you are stupid and believe me, I feel that way a lot. If I had to pick some of the most important stuff I have learned, it would probably be keep plugging away. Sometimes my greatest pushes forward are not the result of a single action, but more the cumulative result of many. Oh, and print shirts with an otter smoking; it will sell like crazy. lol.
MC: So, what's with the library background in your shop? What's the meaning?
AM: The Library background is something that I might be in the works of changing, but it was supposed to give it that college feel, which I believe your next question harkens to.
MC: Why did you decide to make the Rethink tees designed exclusively by college students?
AM: Who parties, loves, experiences, lives, and enjoys life more than this fun subset of people? That is what I think too. So, who better to design then these people who have such a unique edge to their art. The art these young guys and gals do is so full of their lifestyle and is just fun!
MC: Which t-shirt brands served as a great inspiration to you when creating Rethink?
AM: I guess the people who influenced me the most are some of the younger up and coming brands. Seeing a lot of hard working other young guys really makes me try hard too. Some of the bigger guys who influenced me are people like Ecko, who really did his own thing and hustled his ass off. I watched a video of his business partner at a college and he really had some humorous stories that make me not feel as bad when I do some really stupid moves.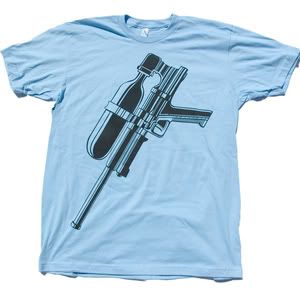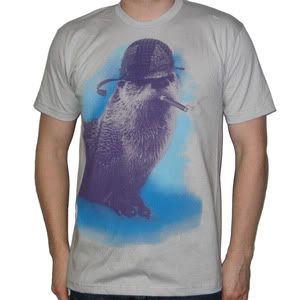 MC: Out of all the tees in your shop, which ones are your favorite?
AM: If I had to choose it would be the otter-tude shirt and the the new fortune cookie shirt. The Otter-tude shirt is just that hilarious form of bad ass I don't see anymore. The Fortune Cookie shirt has that awesome feel to it for Spring and I friggin' love Chinese food. Oh, I also do not want to forget the retro awesome Super Soaker.
MC: Who's your target audience? How do you go about reaching them?
AM: Man If I could answer that I would be a richer man! More seriously the 18-25 gadget loving fun loving guy. Its kind of the same people who read wired magazine, if that makes any sense. I am really trying to narrow it down and have been having a lot of luck just hitting up blogs and online zines, which is luckily where my crowd resides.
MC: What are your plans for Rethink this year?
AM: My Plans huh? You are assuming I have them. I really am looking to just pump out some awesome designs on a more consistent basis. Beyond that though is to just keep going and maybe make some items which no one has which can set me apart. Also, I wanna have a ridiculous awesome photo-shoot with my good friends as well.
Thanks a lot for the interview and I love the mag; keep up the good work.