June 5, 2009
By Moustapha Camara
Rob Dobi is a well known illustrator and designer who owns a t-shirt line called Fullbleed. Graduating from Rhode Island School of Design, Dobi has done several projects as a freelance designer for world recognized clients such as Urban Outfitters and Def Jam Records. I interview Dobi about his work as an illustrator and talk about the success of his brand.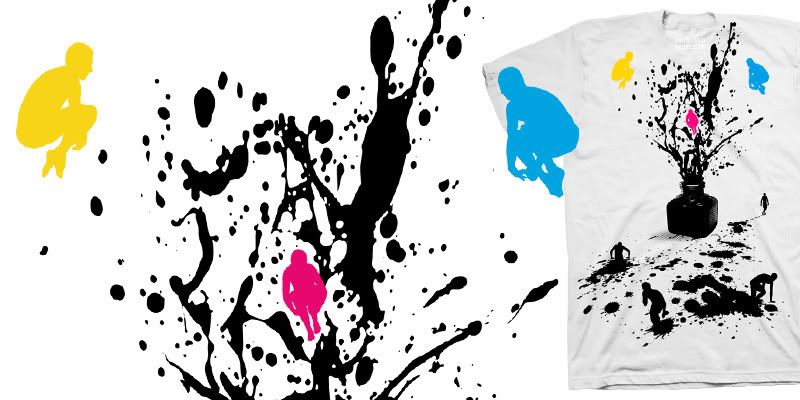 MC: Let me start off by saying your design concepts are fricken awesome! I love them! Do you get your ideas from dreams you had, substance abuse…like, where is your mind at when creating these designs?
RD: Thanks! I haven't turned to substance abuse yet, but that could lead to some cool (or depressing) stuff I imagine. I get my ideas from everyday life, and trying to figure what I can do to juxtapose it in a manner that somebody hasn't seen before. I'm heavily influenced by anything involving nature/industry/art, so those themes often play a major role in my designs.
MC: As a former student of RISD, did the formal art education you received greatly contribute to your skill as an artist? Or are you more of a self taught artist?
RD: I would say I'm more of a self taught artist; there is only so much that can be taught really. The most important stuff that RISD taught me was having a good work ethic, how to avoid sleep while still being able to function, being able to cram an insane amount of work in a short amount of time, and not to associate with girls that don't shave their legs.
MC: Since starting Fullbleed in the Summer of 2004, what are some of the most important lessons you've learned?
RD: I'd say just stick to your guns really. It is a challenge every few months to come up with a new series that is somewhat different and, at the same time, somewhat similar to past series. I think at this point I know what my niche is and I'm going to keep going with whatever direction I feel I need to go until I'm no longer producing anything that appeals to me. Sometimes people get upset if a tee or two is outside the norm of what i usually make, but people just need to deal and realize not everything is going to be the exact same as it was four years ago.
MC: When did you get your first "big break" as a freelance designer? How did you go about making this happen?
RD: I got a few jobs here and there in college, but it wasn't until after I graduated that I actually began to get serious work. I actually took a job as a short order cook at a country club near my parents house for a few months to pay the bills. One day while at work, I got a call about needing some illustrations done for, the now defunct, Teen People. I ended up quitting work the next day and focused on freelance full time. They ended up spelling my name wrong in the magazine.
MC: So, how did you feel when you saw a Fullbleed t-shirt worn by someone on TV for the first time? Did it happen by coincidence or did you send your t-shirts to TV stars?
RD: It usually just happened out of coincidence; I've never sent any t-shirts to anyone with the hopes of a shirt getting on TV. Most of the time it is probably the wardrobe staff using shirts of mine that were once in urban outfitters, but some of the time it is actual fans wearing the tees. I feel a little better about the latter. The one time I actually knew ahead of time that a shirt might be worn was when the staff from the Big Bang Theory emailed me. I think i DVR'd the show for a year and no characters ever wore a tee! When I saw a dude wearing it on the 'Next Bus',  I jumped out of bed.
MC: Out of all of the t-shirt designs you created, which one are you most proud of?
RD: I've had other tees make me more money, and end up in more places, but probably my "surf's up" design. It has been the flagship image for my brand and has been able to translate well into other variations of tees/hoodies rather well. It has been in print for about four years now and I'm still into the design. Normally, I'm sick of looking at anything I do after a week or two, but this tee is still alive and kicking.
MC: What's the most important tip you can give to freelance designers looking to get more clients and make more money from their designs?
RD: Be completely shameless, network your ass off, don't say no to a job, don't sleep, and make cool stuff! You'll eventually get noticed.