British Menswear brand Run and Fell is set on a mission to make a break through in fashion. Naomi Jackson, founder of Run and Fell, has established a brand that believes in ethical garment production, and quality workmanship. Her line of limited edition tees combines vintage menswear looks with graphic prints and embellishments. Naomi shares with us the story of her brand and tells us about her design process.

TM: The t-shirt industry is a blossoming and competitive market. What inspired you to step into the industry?

Naomi Jackson: I think there's just so much variety in the T-shirt industry. T-shirts have been a staple of everyone's wardrobes for decades, and yet there can be such diversity in such a simple garment. I love to design prints, and there's so much you can communicate through a simple graphic print design.
TM: The name "Run and Fell" is an interesting name for a t-shirt brand. Why did you name your brand Run and Fell?
NJ: It's the name of the hard-wearing, double-stitched seam often used in denim garments, usually found on the inside leg of jeans. It reminds me of men's heavy-duty work-wear overalls and uniforms of the past.
TM: Explain the design process for creating a t-shirt.
NJ: I love taking inspiration from travel, cities, and just generally spending time exploring with my camera, snapping bits of signs or graffiti, shop windows, works of art. Sometimes I'll incorporate a theme from the media, politics or current global issues into my designs. My design process always starts with some images pulled together into a mood board. My first collection, "Rainy City", was inspired by the rain. Manchester, where I live, is notorious for its wet climate, and I like the idea of incorporating that into the identity of the designs. From the initial themes and ideas and mood boards, I start to play about with print ideas, and work on tweaking the fit and the shape of the T-shirts themselves for the new season's designs.
TM: What I love about your tees is that each of them have unique notions, such as buttons, rhinestones, and interesting stitching detail paired with graphic prints. Many t-shirt designers simply focus on graphic prints. How important is it to your brand that you embellish your tees?
NJ: I like to look at the T-shirt as a blank canvas, and one of the main features of the brand is the individuality and uniqueness of each of the T-shirts, so incorporating hand finished details adds to that. And it feels more luxurious and well-crafted to incorporate unique details.
TM: How do you avoid over embellishment to maintain the vintage men's work-wear vibe your brand is known for?
NJ: I really love studying vintage garments, especially the interesting details in vintage work-wear. I spend a lot of time in charity shops and vintage shops hunting out random bits of what I like to call "Treasure". I try to incorporate vintage-inspired details where possible. But sometimes a simple print design, or just a great cut t-shirt and high quality fabric is enough. I like to keep variety in the range, where some t-shirts feature embellishments, and others are simpler, more classic tees.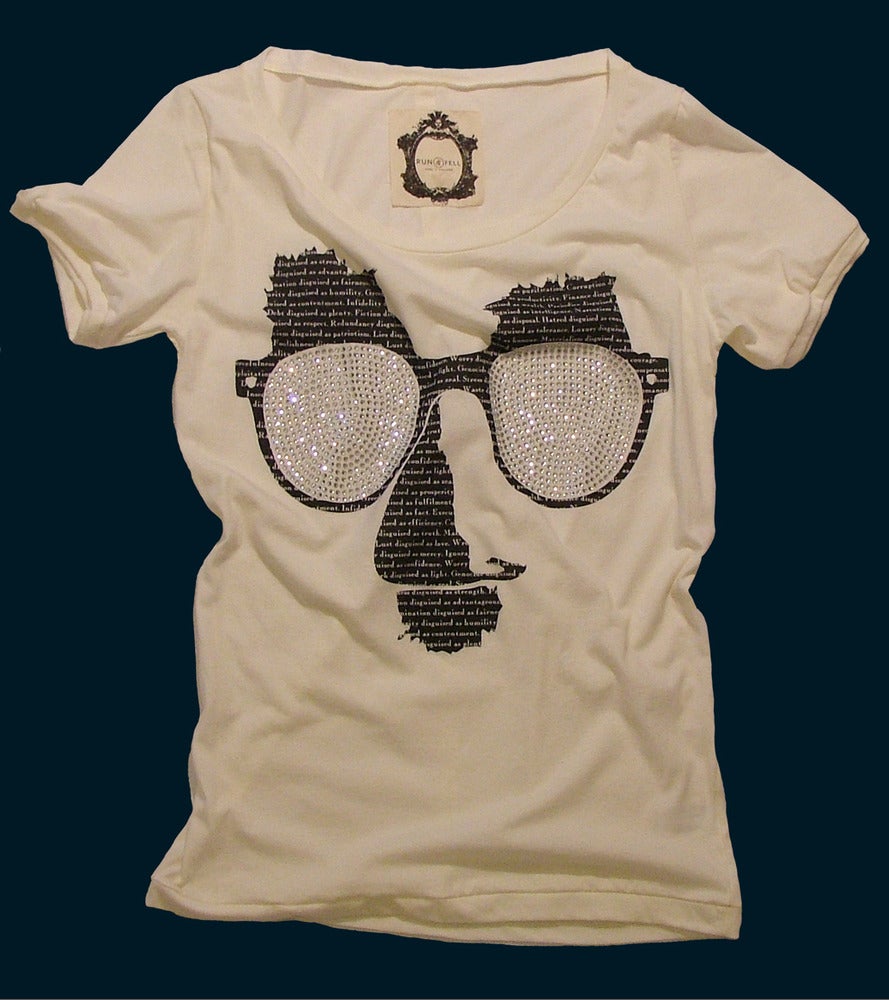 TM: Vintage has gained popularity over the years and many brands are incorporating that aspect into their clothing. What sets Run and Fell apart from others?
NJ: All our pieces are made in England, using local suppliers and manufacturers. The idea is to encourage and support local industry, in these difficult economic times, as well as adding an element of sustainability to the brand. Having all the garments made in England means that I can ensure fair wages for the garment industry workers, and reduce carbon emissions by not having goods made and transported across the globe from the far east, thus reducing the harm to the environment.
TM: Your tees are produced in limited quantities, do you plan on mass producing them in the future once Run and Fell expands?
NJ: Probably not. I like the uniqueness of producing limited edition t-shirts, and as I mostly use digital printing methods, it is relatively simple and cost effective to be able to produce small numbers of each design. Instead, I'd prefer to just have a wider range of limited edition prints available, as the business grows.
TM: What are you doing when you are not working on Run and Fell?
NJ: I have an online Vintage boutique, Mimi's Loft, I co-run a Fashion Industry networking venture, and I'm also a DJ!

TM: How do you manage to run more than one business and still maintain a social life?
NJ: I guess that comes with working for yourself, you can be quite flexible with your time. Many of my friends are similar to me, working on their own projects in creative industries, so that works well.
TM: What advice do you have for young people that plan on starting a t-shirt line?
NJ: I think one of the main things I'd say is that it's not just about having a great idea for the design. A lot of the success of a brand relies on marketing as well as managing the costs and the business side of things. But with motivation and determination you can see some great results!
TM: Where do you hope to see Run and Fell in the next few years?
NJ: I'd love to see Run & Fell being sold in quirky independent boutiques around the world. I also plan on expanding the line by adding other garments too, shirts, trousers, jackets etc.
TM: Well we can't wait to see how your line expands in the future!
Check out Run and Fell's latest collection, "Disguise", over at RunAndFell.com. Their t-shirts are also available at the ASOS Marketplace.