May 15, 2009
By Moustapha Camara
I interview Jeff Vines, co-creator of the St. Louis pride clothing line, STL Style.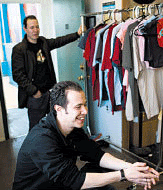 MC: Were you cautious about creating a brand focused on representing one city, considering sales potential? What made you decide to create a brand all about St. Louis?
JS: Our business began as a labor of love. We never intended to make a lot of money doing this. If there had been cool t-shirts promoting St. Louis, we would've been the first to buy them. Frustrated by the lack of originality in local t-shirts, we set out to create designs that reflect the city as we know it– gritty, quirky, honest and lovable.
MC: When you started STL Style, did you already have a big local following, or did it take a while for the people of St. Louis to start following your brand?
JS: It caught on very quickly. We started out making shirts for ourselves and a few friends, and almost immediately people approached us on the street and asked where to get them. We soon realized that we were onto something, and we capitalized on the opportunity to offer something fresh and different. One idea led to another, and fortunately, there is no shortage of local flavor to exploit in St. Louis.
MC: You must really love St. Louis! What are your favorite things about 'the Lou'?
JS: (Just FYI, no one really here refers to St. Louis as "the Lou." The name was kind of assigned to us by the national press during Nelly's rise to fame, and St. Louisans don't really care for the moniker. As far as nicknames, "STL" is much more embraced.)
St. Louis is quite simply an American classic, and the fact that it's so under appreciated only adds to its appeal in our eyes. The history, the architecture, the neighborhoods, and especially the people, give it a character that cannot be mistaken for any other city. We find the city's imperfections endearing, and enjoy being part of a work-in-progress.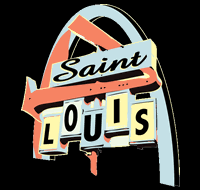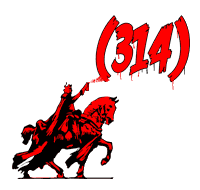 MC: So, why did you decide to sell onesies? Was there some demand for them, causing you to start selling them, or did you always want to sell onesies?
JS: It's never too early to start instilling hometown pride, and we realize that people spend more on their kids than they do on themselves. It was a natural progression to expand our line beyond just t-shirts. In addition to t-shirts and onesies, we also sell messenger bags, hats, underwear and stickers, and many more products are in the works. We aim to provide a diverse line of merchandise that everyone can identify with and be proud to show off. And that's really the best marketing the city could ask for.
MC: I see you do custom designing services as well. Tell me more about your custom printed design services and your experiences working with local organizations.
JS: It has always been our mission to support and promote others who are playing a role in the city's revitalization. By providing design and printing services for local businesses, bands, neighborhood organizations, development projects, events, and community media, we are helping to strengthen the cultural glue that holds the city together. We also help to further civic-oriented causes by sponsoring and organizing music festivals, preservation efforts, and fundraisers that benefit the city.
MC: You've been running your t-shirt brand for 8 years now. During those years, what are some really important lessons you learned from the industry?
JS: We have never allowed ourselves to be motivated by profit, and we've always remained true to our inspiration– the great City of St. Louis. Obviously technology plays a vital role in our business, but the importance of old-fashioned interpersonal relationships cannot be underestimated. We take pride in knowing that our brand is built upon a foundation of humor, accessibility and authenticity.