We interview Samantha of Waffles+Falafels.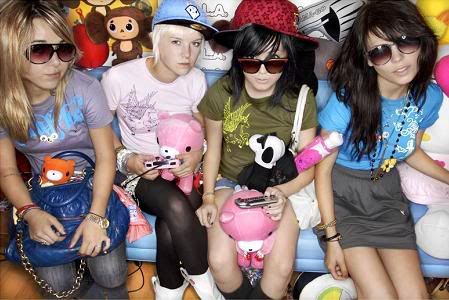 TM: How did Waffles+Falafels begin? What's the story behind the brand?
WF: The creator of Waffles+Falafels is nicknamed "waffles". Falafels is some cat we know. The name kinda rhymed, it made people laugh, and most importantly, it sounded delicious! The first batch of W+F shirts got in the hands of the invisible woman. She liked them, told all her Hollywood superfriends, and the rest is history!
TM: So do the girls on the shirt 'B and Cassie Tee' represent you and your biz partner, or what?
WF: Cassie and B are Waffles Girls! Their full names are Cassie F. Baby and 'B' as in Breezy. Or 'B' as in boombastic. Yeah, like the Shaggy song. Shigetomo designed that shirt after seeing the photos Dirk Mai did for us at Japan [and] L.A. It's totally accurate, besides the cartoon bodies.
TM: Out of the tees in your collection, which one is your favorite?
WF: Honestly, I like em all. They're all based on our photos. But in particular, I think the 'Get 'em Mamis' one is siccccck. Like, when do you ever see gangsta rappers like that? And there's a really rare limited edition of Sky Ferreira that's kind of amazing too. But you gotta bribe us to get your hands on that though.

TM: Your poll about who has the best personal hygiene is pretty funny. I chose Rihanna. Why did you decide to create such a poll on your site?
WF: Rihanna is an excellent pick. Have you seen the 'Shut up and Drive' video? She's a mechanic in it. No oil stains anywhere. As for the poll, we don't really have a reason besides using it as an excuse to mention Harry and the Hendersons, but we're stoked you like it!
TM: In your e-mail to me, you state that you promote and sell your products exclusively through Twitter and Myspace. Tell me more about how you go about using this strategy.
WF: We like Twitter, Myspace and Facebook because they give us a chance to interact with everyone, and they're all really helpful for promos if you use them properly, and not as spam machines! People use Twitter because it's fun and they like it; they don't want links to some blog with crap! We try to produce a lot of quality, original content so people have a reason to not only click our links, but also to come back on their own.
TM: What are some plans you have for Waffles+Falafels this year?
WF: As usual more shirts, more food and more goofiness! Also, a bunch of the Waffles Girls are musicians, so look for new tracks by Simone, G.E.M. and of course our very own teen superstar, Sky Ferreira! Oh, and we're going to be launching Waffles+Falafels U.K. sometime this year, which should be pretty awesome; London is a great place for cool tees!
TM: From what you've learned so far, what tips can you give to upcoming t-shirt entrepreneurs about getting their brands known?
WF: Don't follow the rules! Rules are overrated. And talk to people… a lot! They can help you get your stuff right. And make sure you always release a quality product. Don't compromise even if it costs you a little more. People would much rather rock one dope shirt from you than try to pick one out of ten average ones, ya know?